Join Taylor in class!
Unfortunately, this MV Fitness class is full. Start a trial to try other online classes from top studios.
Unfortunately, this MV Fitness class is full. Start a trial to try other online classes from top studios.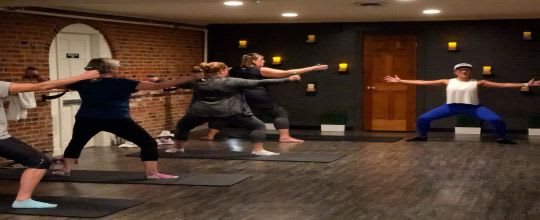 Kettlebell Blast
Wed

, 

Jul 17

 · 

6:00 AM

 – 

6:30 AM EDT

This class is in a different timezone
MV Fitness - Downtown / Mt. Vernon
1016 N Charles St
Baltimore, MD, 21201
What kinds of classes can I take with ClassPass?
Try classes in the studio
Book classes at the best studios, gyms and wellness centers in your neighborhood*
Bring the in-studio energy to your living room with livestream classes
Get thousands of on-demand workouts
Your membership includes unlimited access to over 4,000 on-demand workouts.
*In-person classes are not currently available in areas experiencing government-mandated COVID-19 shutdowns.
Create your free account to get started — no monthly plan required

Unlimited on-demand access

Access 4,000 free on-demand workouts on your phone or laptop

Livestream top-rated classes

Book livestreaming classes and pay as you go
Stream thousands of digital workouts from home
Thousands of digital workouts are included in your membership. Try everything from yoga to Pilates, cycling, boxing and more — no equipment is required for most of our digital workouts.
Want even more? Bring the in-class energy home by booking livestream classes from thousands of top studios worldwide.
Livestream the top classes in the world
The best classes and best instructors are now available for workouts in your living room.
A different workout every day
Join a live class from a top-rated studio for real-time instruction, or start an on-demand workout class when it works for your schedule. Thousands of options in everything from bootcamp to virtual meditation are only a tap away.
Common questions
How do I reserve a digital workout?
What if I need to cancel my digital workout?
How do I join a livestreaming class?
Is there a monthly fee to access digital classes?
Not ready to start today?
Get an inside look at the classes available in your neighborhood with our fitness city guide.