But on our journey with them, even in the two post-series films, not once did we see our uptown (and one Brooklyn) ladies hit up a local gym or yoga studio on a consistent basis.
In fact, we saw them brunch, go clubbing and make steamy, passionate love on an almost episodic basis, but low and behold, exercise wasn't part of their passion. So, it got us thinking: What if the lovely ladies of Sex and the City were that much more like us that they became addicted to ClassPass, too?
Charlotte called the girls for their weekly Sunday brunch. When they all arrived, Charlotte handed them each giant manila envelopes — with her favorite classes inside. "We're going to become ClassPassers!" she screamed, to the attention of the entire restaurant.

Carrie wasn't apt to handle this type of serious business before noon on a weekend — and especially before having a cup of coffee:

Miranda, being the lawyer and designated practical person of the group, gave the proposal a solid second of thought before coming to her unapologetic conclusion:

But when Samantha, told the group that she recently read an article about how exercise can enhance your orgasms and make you more likely to find a sex partner to your standards, the girls were in: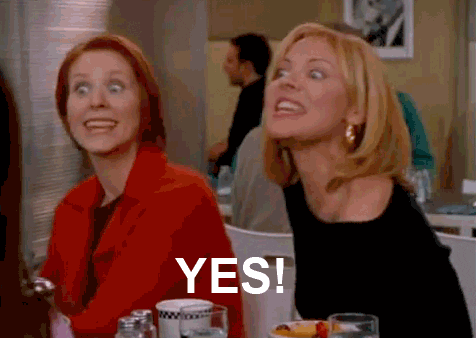 So, their usual post-brunch activity of window shopping on Fifth avenue turned into a brisk walk by the Kennedy-Onassis Reservoir to get them ready for their first week of classes: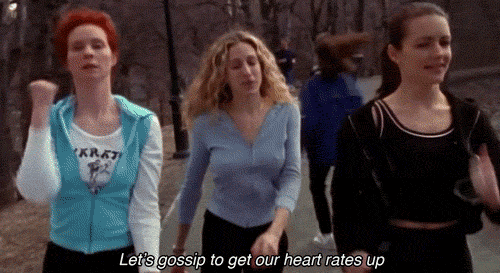 Carrie complained about missing out on seeing the new preview of Manolo Blahnik's new spring line, but stuck with the walk anyway:

An hour later it was back to Carrie's apartment so they could all sign-up for their first class, aerial yoga, and watched a YouTube clip showing them what it was like: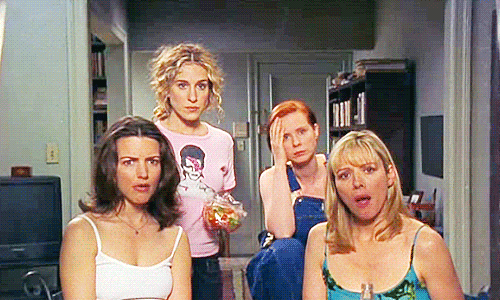 The next day, Charlotte and Carrie got to class on the early side so that they could get some stretching in, but even that turned out to be quite a challenge:

But once the class began, the girls realized it wasn't as bad as they imagined. In fact, they could even keep up their normal conversations while still listening to the teacher's instructions:

After yoga, they grabbed cocktails and decided they'd each sign up for a different class for the following day so they could report back and share their experience:

The next day, Samantha got down to business. She had her assistant sign her up for a cycling class, because she heard that all the instructors wore skin-tight shorts. When she got to class, she was pleased to find that the instructor was a sexy, strong man:

Meanwhile in Brooklyn, Miranda asked Magda to watch Brady and forced herself to make it to class. She still wasn't convinced she would like her bootcamp class…

…but her competitive spirit came out and she aced the class. She was so impressed that when she got home, she jumped on Steve and showed off her newfound energy:

The next night, at a studio somewhere on the Upper East side, Charlotte was just arriving to what she thought was a barre-type of class, but she quickly realized she had accidentally signed up for pole-dancing…

…but the fun latin music swallowed her fears and she got right in the mood. And by the end of class, she couldn't contain her excitement over her new-found best friend: The stripper pole.

Meanwhile, at an apartment a few blocks uptown, Carrie walked in to her Mindbody Bootcamp class five minutes late and was immediately put on the spot by the instructor with the question: "What do you want to have by the end of class?"
While lots of her fellow ClassPassers laughed, she realized one face in the room wasn't smiling — an unfortunately recognizable face, that of Mr. Big's ex-wife, Natasha:

Immediately after class, Carrie called Stanford to come over to vent about the judgey looks she had gotten in class:

When Stanford's advice didn't really help, she went to Samantha instead:

When not even Samantha's advice could pull her out of her Big-Ex slump, she realized maybe a change of mindset was really what she needed. Maybe her issue had nothing to do with Natasha at all. In fact, maybe her instructor's words meant more to her than she had realized:

And she had found that with Mr. Big. The road might have been rocky, but they found each other, finally. When she got home, she asked him if he'd take the class with her and he said:

And there, in the same city where they met as girls, four New York women entered the next phase of their lives as ClassPassers. And that's the one label that never goes out of style: